There's not a great place to put this post, so here it is. Frank Bender died yesterday, age 70.
Frank Bender was a forensic artist who co-founded Vidocq. Perhaps his main claim to general fame is making the piece of forensic art that age-progressed family killer John List into a stunning sculpture that directly led to List's capture after 18 years on the run. Using old photos of John, alongside current photos of his parents, he came up with the sculpture that predicted how John would look after twenty years. Beyond amazing, he deduced List would want to appear more intellectual than he was, so Frank added a pair of glasses. List wore glasses when he killed his family, but Frank dared think List would still prefer the intellectual stigma of frames over contacts. Frank was absolutely correct.
List was soon arrested, and even the frame style was astoundingly similar to those Frank employed.
. . . . . .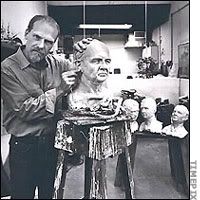 Busted List (l) Bender's bust (r) . . . . . . Bender working on his bust of List
Read up on Bender- Wiki has a short piece, but there's great info on the web.
Frank was the real deal. His is the quality of results anybody doing any job should aspire to.
Bender's bust being debuted on AMW. With fresh leads generated by the bust, List was identified immediately.